Blue Reflection looks a bit Sailor Moon and a lot Persona
This is some fine-looking foolishness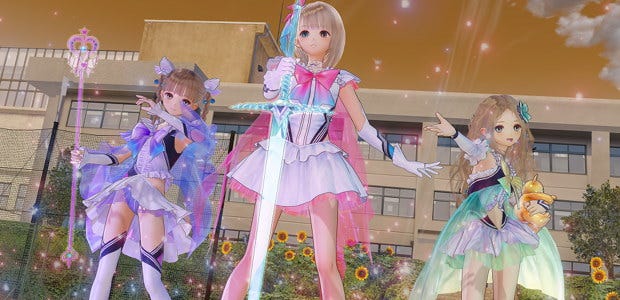 Gust, the RPG studio behind including Nights of Azure and the Atelier series, are going more than a wee bit Persona in their next game. Like Atlus's Persona games, Blue Reflection [official site] mixes day-by-day school life with turn-based battling using magic powers against monsters. Blue Reflection smooshes this into magical girl animes like Sailor Moon, with the schoolgirls transforming to explore unreal worlds and battle monsters to solve classmates' real-life problems. I'd missed Koei Tecmo's E3 announcement of a Windows release so I am delighted to see today's ludicrous trailer:
Ludicrous. Just as I'd want it.
A lot like Persona, Blue Reflection follows a daily routine where players go to school, chat with chums, and all that, then afterwards have free time to socialise and enter the 'Other World' to dungeon-crawl and quest. And of course the strength of your friendships brings you bonuses and... it's so Persona and oh so anime.
I would rather see Persona come to PC but, aside from that, I do also quite fancy the idea of Blue Reflection itself. Did you not see those Sailor Moon shenanigans?
Blue Reflection is coming to Windows via Steam on September 26th. It's been out in Japan for several months already but hey, the Windows release is the same day as the western PlayStation launch.