Boidzerging: Invaders! Possibly From Space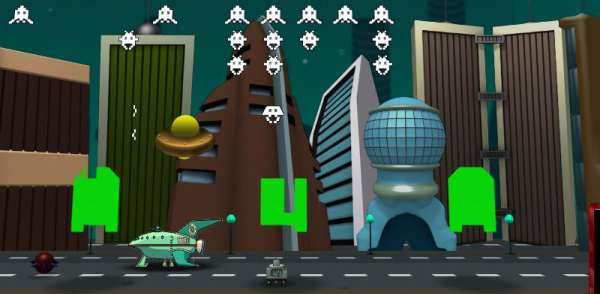 Picked up from World of Stuart by Walker - who didn't want to look at it, because he doesn't like Futurama - is this lovely little Space Invaders tribute with theme taken from the aforementioned cartoon's Raiders of the Lost Arcade episode. Shoot aliens! Have tiny clips of show! Save every ten level! Mixes up the formula with extra bits! Rush! Well, four out of five isn't bad. I actually liked this as much as any Invaders clone as I can remember, though it is a little easy and the clips repeating loses some charm. Get it from here, or see footage below...


This actually reminded me of a freeware Invaders clone I played the hell out of back in the Amiga days. It had an eternally looping version of a Metallica track - Sad but True, I believe - and some shiny-yet-minimalist graphics. And a google reveals it was called Motorola Invaders...
Which, I suddenly realise, if I was going to do a sort of personal autobiography of gaming, I'd probably have to include. Actually including not just versions of real tracks to elevate already existing gameplay was a total eye-opener to me, a sort of John the Baptist to Wipeout's Jesus.