BREAKING: PC Games Will Be At Eurogamer Expo 2013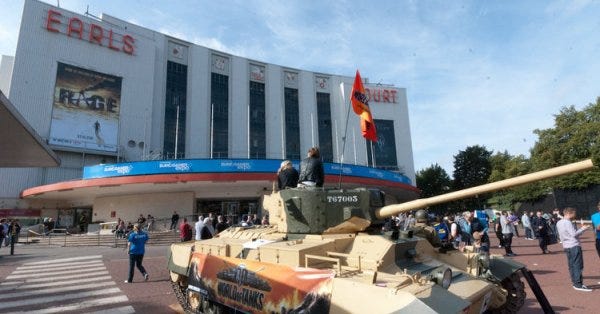 Do you know the way to Eurogamerexpo woah woah woah woah woah woah woah? Because it's just been announced there will be a bunch of cool stuff for you to play at Eurogamer Expo, Earls Court, London, from Thursday 26th September to Sunday 29th September. Eurogamer Expo is a giant games shenanigan, hosted by our friends and drinking buddies the Eurogamer Kids. RPS helps curate the Rezzed section of the Expo where all the most interesting indie games are kept, and copious other PC titles will be on show. And some sort of strange machine we are totally perplexed by. Is it called the Pess Four? Piece Far? Puss Fer? Anyway that will be there too. Our lovely pals at Eurogamer told us about it.
The list of games confirmed for the show are:
Assassin's Creed 4: Black Flag
Batman: Arkham Origins
Battlefield 4
Castlevania: Lords of Shadow 2
Dark Souls 2
Democracy 3
Doctor Kvorak
Droid Assault
Duel of Champions
FIFA 14
Frozen Endzone
Infinite Crisis
Injustice: Gods Among Us
LEGO Marvel Super Heroes
Need for Speed: Rivals
Payday 2
PES 2014
Prison Architect
Redshirt
Rocksmith
SteamSaga: Cerulia
Stronghold: Crusader 2
The Crew
The Elder Scrolls Online
The Mighty Quest for Epic Loot
The Room 2
Ultratron
War for the Overworld
Wolfenstein: The New Order
And those are only the titles that have been confirmed as yet. The show will also have the biggest-ever retro showcase – home to a stellar line-up of pinball tables! I remember last year's Eurogamer Expo having a particularly great retro section too. I played Driver and relived that one time I liked an Offspring song. There will also be a chance to check out the Oculus Rift, if you like feeling a bit seasick, or feeling like you are having an out-of-body experience.
Come along! No doubt I'll be there lurking in a corner beating everyone at Tekken, as is my wont.
Tickets are almost sold out for this year's Eurogamer Expo, but you can still grab them here while there is time, and check out that Piece Four they were saying you can play.