Bungie ♥ Actvision: BFF!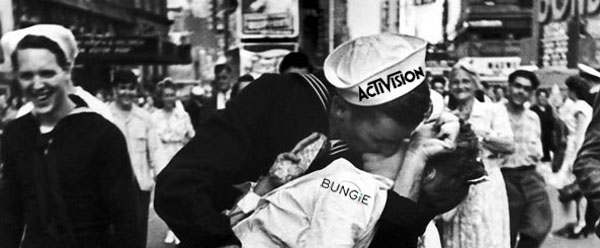 Well, 10 years, which is BFF! in corporate terms. News broke of this yesterday, with the aforementioned 10-year publication agreement to bring Bungie's next game universe to market. Bungie will keep intellectual property rights and remain independent. Obviously, this is enormous industry news, and there's no real details yet - I wouldn't be surprised to see some at E3 - but this is relevant for one key reason. This is a multi-format deal. And something which hasn't been mentioned explicitly yet... well, the PC (and the Mac, for that matter, given Bungie's roots) are other formats. It'd be good to have Bungie back with us. Question, is what are they doing? What would you like them to do? The MMO angle is brought up repeatedly, certainly. Personally, I'd be a little disappointed if they split from Microsoft just to make another Sci-fi universe...
In other notes, analysts are reaching new levels of incisiveness with this one.