Burning Robbers: Crash Time 5 Demo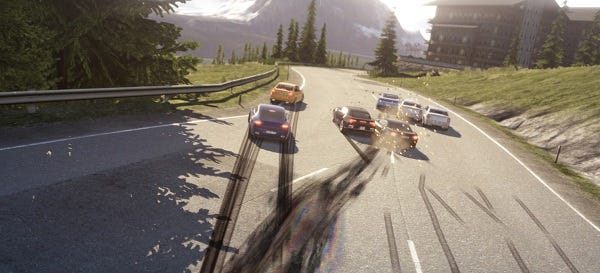 I've never played a Crash Time game, although I've seen lots of clips of Alarm für Cobra 11, the German TV show on which the games are loosely based. Professor Youtube has taught me that Cobra 11 is a show about maniacs and the cars that they choose to drive/explode. There's a clip below which manages to make me laugh, while also causing me to fear for my life and the sanity of everybody involved in producing the show. You can find the demo for Crash Time 5 here and I've also included a trailer for the game below. It looks quite a lot like Hot Pursuit. Hopefully it has inane dialogue and a plot that's loopier than a morphophone riding Edwin Prescott's Coney Island innovation.
All well and good, but this is what you're here for.
The beginner's guide to casually catching a ball or swimming frantically in mid-air.