Cabin - a cool tiny project that will make your eyeballs ill
A walk in the woods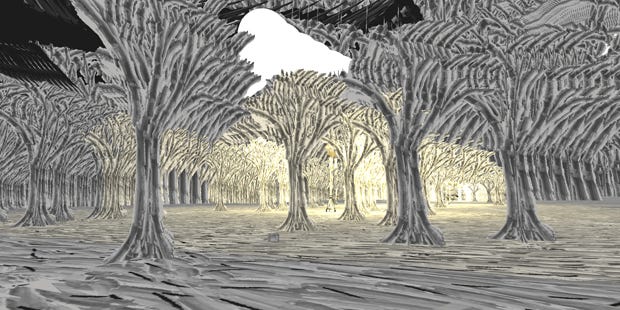 On an afternoon trawl of cool free projects I came across Cabin [Itch.io link]- a "fleeting experimental game about spending time in a cabin" in which you can "relax", "drink a beer", "stare at the moon" and "paint the sky". I'll admit that it was the latter which was of most interest as I can do the other three IRL once the sun sets.
It's a small project with a fondness for an aesthetic which is hellbent on meandering back and forth across the line between pretty and vomit-inducingly awful. I both want to stay in it for ages and leave immediately so that the world stops moving and stuttering.
If you fancy an interesting/pretty/nauseous experience this is a good option. Cabin is pay-what-you-want over on Itch.io.
I need to lie down.