Call of Duty: WW2 open beta hits PC on September 29th
This time it's World War II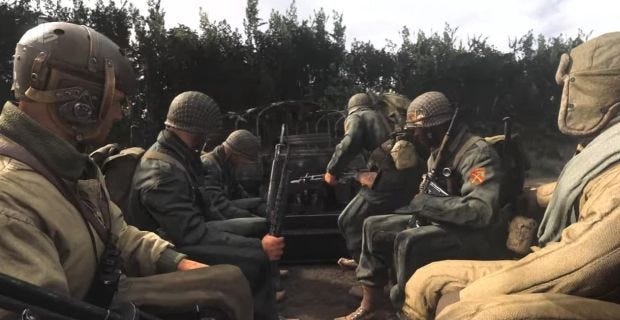 Call of Duty [official site] is returning to its roots. No more orbital adventures and digital warfare, and little chance that the series will complete its full evolution into a sort of first-person Command & Conquer: Red Alert. Instead, the billboards that decorated E3 this year had a solemn air about them. "This," they wanted us to know, "is serious business."
We'll have to wait 'til CoD: WW2's singleplayer aspect is playable before we get a proper sense for the tone and the specific battlefields we'll be (re)visiting, but the multiplayer open beta is coming to PC in a couple of weeks. It's a little later than console and will run across the weekend, from the 29th September to the 2nd October. No real news on what exactly will be included yet but the announcement post gives a few more details.
I'm hoping to see the War mode, which is a multiplayer mode with some narrative focus, as opposed to all that chaotic combat and killing that you'd never find in a real war. It's still team vs team but built around assault and defend objectives, which should hopefully lend a deeper strategic element to play.
That mode is being developed, at least in part, by Raven Software who have been doing multiplayer bits and bobs on CoD for ages now. They're mentioned in the PC beta announcement post so fingers crossed we'll get to see what they've been working on here.
Here are the minimum system specs for the beta. They may change before the actual launch, given that one of the reasons for a beta is to test how well the game operates in the real world.
OS: Windows 7 64-Bit or later
CPU: Intel Core i3 3225 or equivalent
RAM: 8 GB RAM
HDD: 25 GB HD space
Video: Nvidia GeForce GTX 660 @ 2 GB / AMD Radeon HD 7850 @ 2GB or better
DirectX: Version 11.0 compatible video card or equivalent
Network: Broadband Internet connection
Sound Card: DirectX Compatible
The only thing you'll need to play, along with a computer that fits those specs, is Steam. We should have a better idea what exactly is included before the beta actually starts.