'70s Canadian survival adventure Kona launches, eh?
That unforgiving Canadian snow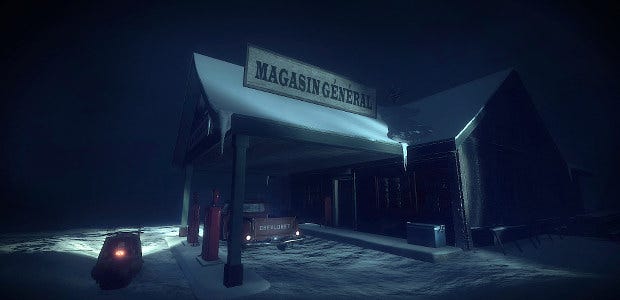 I've little interest in most survival games because survival for survival's sake isn't enough for me. And in the game. Kona [official site] has caught my eye for bringing a purpose to survival. It's a first-person survival explore-o-adventure set in '70s Canada, with a detective investigating a town that's mysteriously deserted during a fierce blizzard. I'm up for that. Kona first caught my eye in 2014 while crowdfunding and now, following a year in early access, the full game has launched. Peep the launch trailer:
So there you are, in a town where everyone's gone missing, trying to solve the mystery by exploring, solving puzzles while surviving the elements and hostile wildlife. Rob Zacny was not a fan when he Prematurely Evaluated Kona in March 2016 but ah, I've already started downloading it myself. I do enjoy poking around places.
Developers Parabole have reworked and changed bits over the past year, but the main change coming with the full launch is adding Kona's other chapters. Parabole explain:
"If you played Kona on Early Access, you probably wonder what will change starting today. During early access, approximately 30% of the game content was available. Starting today, you can finally discover the rest!

"You will also be able to find and drive a snowmobile and you can expect new encounters, among other things (we wouldn't want to spoil the whole thing now, would we)."
A snowmobile!
Kona is out now for Windows, Mac, and Linux. It's £14.99/$19.99/19,99€ on Steam and about the same on GOG.