Capcom re-releasing vintage Disney NES games
Cartoon... classics?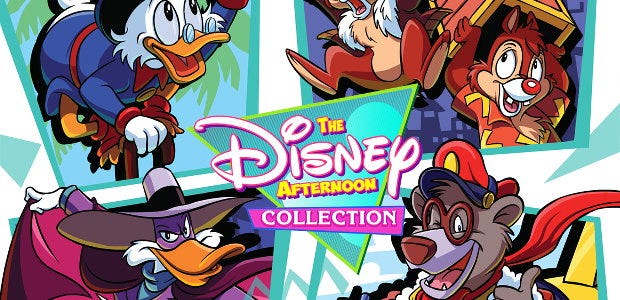 A sextet of vintage NES games based on Disney cartoons are being remastered and bundled up for re-release in April, Capcom have announced. The Disney Afternoon Collection will pack Chip 'n Dale Rescue Rangers, Rescue Rangers 2, Darkwing Duck, DuckTales, DuckTales 2, and TaleSpin. That's five platformers and one shoot 'em up. They're expanded a bit too, packing new Boss Rush Time Attack modes plus a 'Museum' collecting art and ephemera. Capcom are working on this with Digital Eclipse, the folks behind the Mega Man Legacy Collection.
I only know some of those Disney games, and only encountered them in the past few years, and do not think too highly of them. But if you've got childhood memories to relive, these should be good releases. Capcom say:
"All six games are new and improved HD versions of the originals and feature a number of filtering options that replicate a classic retro look and feel. This collection also offers new ways to play with Boss Rush and Time Attack modes for each game. In Boss Rush mode, players battle through challenging boss encounters consecutively, while Time Attack mode encourages time-based gameplay and provides online leaderboards that track the fastest times for each game. A new 'Rewind' feature makes these challenging titles more accessible for newcomers, with the option to rewind time and enjoy a swift recovery from blunders. Additionally, the in-game Disney Museum will provide history buffs with a wealth of content to celebrate the era of the original releases, such as concept art, advertisements, character art, and music – all preserved in their original glory."
Digital Eclipse's Mega Man collection was achingly faithful, even preserving flickering and slowdown. They take preservation seriously.
Frank Cifaldi of Digital Eclipse gave a smashing talk at the Game Developers Conference last year, griping about how bad the games industry is at preserving history and making it readily available. He even specifically mentioned DuckTales as a game unavailable in its original form, only as the modern remake. A year later, problem solved! Cifaldi is also one of the founding members of Video Game History Foundation.
The Disney Afternoon Collection is due April 18th, priced at £15.99/19,99€/$19.99.
[Disclosure: I know Frank Cifaldi a wee bit through a mutual acquaintance. A few years back we went to a Steve Purcell exhibition, where I got a signed huge print of the Sam & Max Hit the Road boardgame for $20. Result!]