Car 'ere: Test Drive Ferrari Racing Legends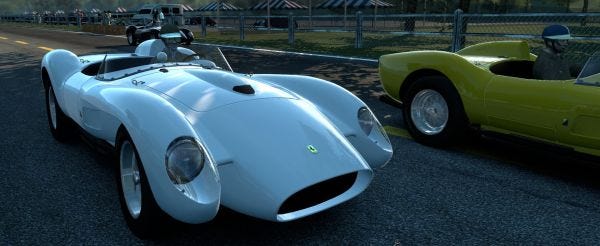 Atari have affixed a serious face to announce the next Test Drive game. I tried to make them smile as they did it by capering about, but the news was so grave and grim that not even a glimpse of a smile appeared. No Hawaii, no holidays, no career mode where you take a busboy all the way to luxury car owner, no balloons and bouncy castles. Test Drive: Ferrari Racing Legends has 50 determined classic Ferrari cars and 36 no-nonsense tracks. If it could be represented as a smiley, it would be :-|

But it is being made by the lovely chaps at Slightly Mad Studios, whose moniker belies their sim skills: they've been backing up the Need For Speed: Shift games into your garage on EA's coin for a while. They actually make driving sims that attempt to balance accurately weighted sloshing of the fuel in the tanks with the fact that most players still lean when taking a corner. I have every faith that they'll turn the text of the press release below into something worth playing.
Atari, one of the most recognized names in interactive entertainment, has announced the upcoming release of Test Drive: Ferrari Racing Legends. The latest chapter of the Test Drive saga focuses exclusively on the storied Ferrari brand, bringing over 70 years of the world's most recognizable performance cars to the Xbox 360® video game and entertainment system from Microsoft, PlayStation®3 computer entertainment system and Windows PC. Development of the title will be handled by world-class developer Slightly Mad Studios, bringing their extensive experience in the driving category. Production/Publishing partners Rombax Games and Bigben Interactive are proud to work with Avalanche, who has a partnership with Ferrari, thus ensuring that Test Drive: Ferrari Racing Legends delivers the ultimate track based racing experience.

Since its inception, the Ferrari brand has been synonymous with speed, performance and prestige. Test Drive: Ferrari Racing Legends brings this legacy to life; delivering detailed racing physics that underpin a huge variety of entertaining drives spread throughout the brand's storied history.

Test Drive: Ferrari Racing Legends explores the legacy of Ferrari Racing, recreating Ferrari's most beloved and coveted performance racers, from today's latest models to the legendary vehicles that have dominated racing history.

Key Features of Test Drive: Ferrari Racing Legends include:

* Multiple Race Types - A variety of race types challenges including rally, GT, and Formula 1.
* Extensive Online Competition - Single and Multiplayer integration with a selection of racing styles. Up to 8 players can join a single race.
* 36 circuits, including variations - GP circuits, test circuits, and bonus circuits; a wide variety of driving environments to reflect the best driving the world has to offer. Tracks from the past and present.
* Over 50 stunningly detailed cars - The greatest modern and classic Ferrari models are lovingly rendered inside and out – including working switchgear and visible engines. Car dynamics include realistic deflating tires and blow-outs.
* Campaign Mode - Players experience the rich history of the Ferrari brand as they unlock tracks and cars throughout Ferrari's history. Circuits unlocked during the campaign can be raced subsequently using any available cars.
* Detailed Racing Physics - Vehicle handling uses a convincing physics model, tuned for exciting pick-up-and-play racing. High speed racing with visual damage effects are the major game play keys.

"Test Drive: Ferrari Racing Legends is a landmark chapter of the iconic Test Drive saga," said Jim Wilson, CEO of Atari, "Ferrari has been an essential partner throughout the history of the Test Drive franchise, and the opportunity to celebrate the unrivaled Ferrari Racing Team and the legendary Ferrari brand promises a one of a kind experience for all driving enthusiasts."
It's out in Spring. That seems like an awfully happy month to me.