Chuckie Egg Xtreme: Chicku Has A Demo
Chicken run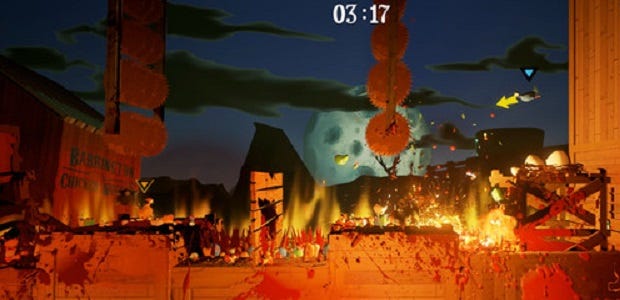 I find Chicku [official site] unnerving. Imagine the Aardman Animations film Chicken Run had been part of the Saw franchise, or that eighties gaming icon Chuckie Egg had been crossed with Super Meat Boy. It's a platform game about chickens escaping from a farm and the farm is full of saws, spikes and other devices that convert poultry into pieces. It's enough to make Bernard Matthews blush.
There's no shortage of gore and even though the game is in Early Access, there are already loads of maps and even a local multiplayer mode, which I'm going to imagine is like ultraviolent Joust. If you're peckish, why not try the demo?
The whole game can be played with friends, cooperatively. Initially I'd assumed it was Lemmings with chickens rather than a platformer, possibly because I'd seen an image with several hens wandering toward a giant saw. But platformer it is.
It's important to note that it is apparently possible to continue for a while after your head has become detatched. Who knew Chuckie Egg Xtreme was a biographical work?