Club Penguin adds fabled iceberg Easter egg to farewell
Waddle on, small friends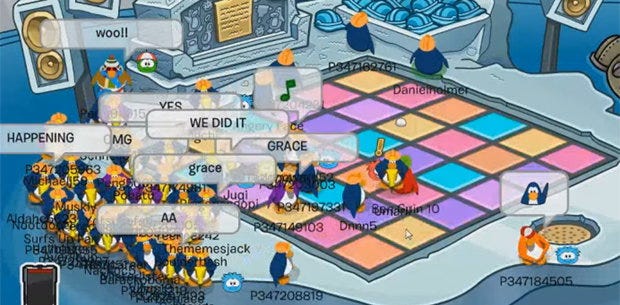 Y'know, it occurred to me the other day that we had never really written about Club Penguin [official site], the kid-friendly MMO where you all have little penguin avatars. At most we've mentioned it in passing. But now Club Penguin is being retired (both from desktop and mobile) to make way for its mobile-only successor, Club Penguin Island, at the end of March. As part of the closing down party there's an ADORABLE Easter Egg involving the long-fabled flipping of a previously unflippable iceberg. It's so utterly charming!
It's basically the devs performing a bit of fan service because of a long-running rumour about how if enough penguins were standing on the island it would tip over. Previously it was just one of those digital penguin urban legends but as part of the Waddle On Party that's happening in the final two months of the game's life it has become a reality and you can use five penguins to overturn the iceberg and reveal a light-up dance floor.
My previous favourite Club Penguin thing was the Trump protest which was both heartwarming and adorable. #mypenguinmychoice
@gossipgriII THIS IS ACTUALLY HAPPENING pic.twitter.com/2UeGXOT178

— han loves em (@FADEDCABEYO) November 14, 2016
If you're interested in actually doing an iceberg tip for yourself I have been researching this (because I have a serious grownup job) and apparently the recipe for a-tippin' is as follows:
5 players wearing blue (it's a colour which functions as an outfit change in the game) and each with the blue puffle pet equipped all dancing on the iceberg while wearing the Hard Hat head item.
For info about the actual closure of Club Penguin there's a blog post over on the official site, but the most relevant bits for us as a PC site (given the next incarnation is mobile-only) are here:
Memberships for desktop Club Penguin and the Club Penguin app will no longer be available for purchase as of Jan. 31, 2017. From Jan. 31 until Mar. 29, 2017, current paid members can log in and continue to enjoy full-unlimited access until their original membership end date.
As of Jan. 31, 2017, paid member accounts will no longer be charged a recurring payment for desktop Club Penguin and the Club Penguin app.
Emails will be sent to current paid members with further information about membership including refund details.
If you do not currently have a Club Penguin membership, you can continue to log in and enjoy the game as you were previously, until March 29, 2017.
So yeah, you've got until 29 March to see/participate in the Waddle On Party.
Because I could not waddle on for Death,
He kindly waddled on for me;
The carriage held but just ourselves
And Immortality. - Emily Dickinson