Clunky ClickClickClick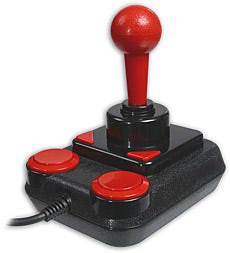 A sad realisation came upon me this afternoon: I don't use joysticks anymore. I have one somewhere, but I don't think it's been plugged into a PC for about five years. On my consoles and PC there are gamepads galore, but the grand stick of old is gone. Some people still think themselves connoisseurs of the rubberised grip, however. One such person is Gasbandit, who has been writing about joysticks past and present. He makes a few suggestions.
Maybe if there were some decent, inexpensive yet sturdy and dependable joysticks to play with that weren't concerned about finding places to mount 58 impossible-to-program buttons somewhere on the surface of the stick, devs might actually see a market for some good flight sims again.
I wouldn't hold your breath, Mr Bandit. You'll be blue and dead a long time before joysticks cause a resurgence in accessible flight sims.
Anyway, the best joystick is clearly this bastard:
Yeah.