First-Person Platforming Pile-up: Clustertruck Released
Keep on truckin'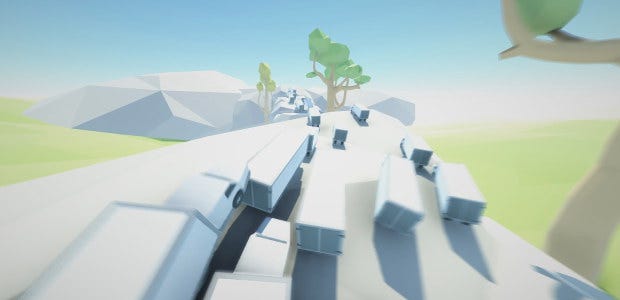 Leaping across the backs of a convoy of trucks as they crash, flip, jack-knife, and explode sounds a right lark. That's Clustertruck [official site], a timetrialling first-person platformer which launched today. Correction: that's the early levels of Clustertruck. Then it'll introduce static obstacles, then swinging hammers, lasers, plummeting... it gets messy. Look, I need to finish this news post before I'm allowed to clock off for the day and play Clustertruck myself, so let's crack on with it, shall we?
A trailer:
Worlds: 9.
Levels: 90.
Level editor: with Steam Workshop support.
Twitch integration: viewer votes to activate interference like earthquakes, low gravity, high gravity, bouncy trucks, thin trucks, fat trucks, laser trucks.
Price: £10.99/14,99€/$14.99.
Store page: Steam.
Platforms: Windows, Mac, Linux.
Developer: Landfall Games.
Publisher: tinyBuild.
Jokes: no I'm fresh out, thanks for checking though.
Okay I'm off to jump on trucks talk to you later bye bye goodbye bye.