Command Carriers: Orion: Prelude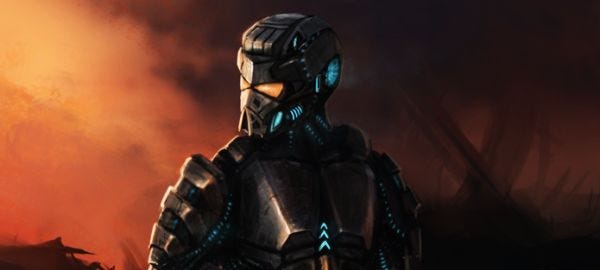 An email arrived from Orion: Prelude developers, Spiral Game Studios, asking us if we miss Starsiege: Tribes. Which I misread as "Miss Starsiege: Tribes", which would be the strangest beauty contest ever. It is, in fact, the multiplayer shooter Alec mentioned a couple of weeks back, based on the success of their previous Orion: Source mod experiment. Oh, and it contains dinosaurs of course. And humans (called Carriers). Which have had something of a makeover. So they don't look like Master Chief any more. There's new artwork and the old video below.
Dinosaurs in shooters really does seem to be the new zombies, and I welcome it in with open arms. Orion: Prelude boasts the following features:
01. MULTIPLAYER ONLY.
02. DINOSAURS
03. VEHICLE COMBAT (6 VEHICLES)
04. 7 ENORMOUS MULTIPLAYER LEVELS
05. 6 UNIQUE PLAYER CLASSES
06. 30 WEAPONS & ITEMS
07. 3 INTERACTIVE GAME MODES
- VITAL
- LOCKDOWN CTF
- CINEMATIC CO-OP
Which looks promising. Prelude is going to be only a part of the full game, apparently.
To redesign the Carriers they hired four concept artists and told them to go wild. They were very pleased with the results, and the new art reveals the new vehicles too. Click on the man-face above to see it bigger. The other three are about actual size anyway.
There's also a bunch of new community features, which you can get involved with via here.