Command & Conquer To Revisit Red Alert, Tiberium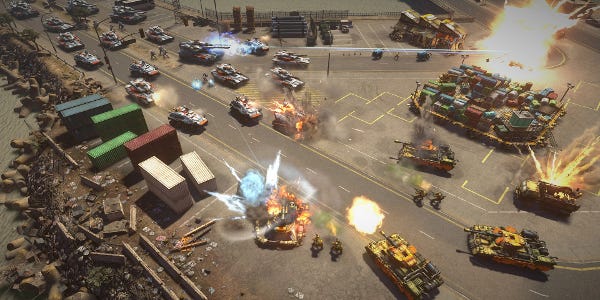 EA's free-to-play reimagining of Command & Conquer just keeps on growing. Next year, it'll slowly but surely roll out a full single-player campaign set in the Generals universe, replete with triumphant returns (or cackling callbacks) from the Global Liberation Army and revamped Chinese and US factions. But how exactly will these missions release? And what lies beyond, after what essentially constitutes Command & Conquer Generals 2 has given up all of its tiny, suicidally obedient ghosts? Victory Games explained in a new video, and let's just say that they haven't forgotten the legendary RTS series' legacy.
For now, Generals is the focus, but - assuming that campaign is successful - the Red Alert and Tiberium universes are next. Development director Tim Morten explained:
"This game picks up ten years after the last Generals, so it's still got the same Terrorist Faction - The Global Liberation Army, the European Union is taking over from where the US Faction was in the last Generals and then the Asia Pacific Alliance is a broader version of the China Faction. In the future we're going to go back to the Tiberium Universe and the Red Alert Universe."
Perhaps even more interestingly, campaigns will trundle onto our hard drives gradually - as opposed to blitzkrieging the frontlines of our free time all in one go. Morten noted: "Campaigns will be dynamic in that they release constantly over time so there isn't just one campaign like the last games, it'll constantly be growing."
Given that this is a free-to-play game, that of course gives rise to the looming specter of microtransactions. It seems like a no-brainer that EA would charge for campaign missions, and I honestly wouldn't blame them. Single-player story content isn't cheap to produce. The big question, then, is how much we'll have to fork over to experience the subtle, moving prose of ceaseless tank fire and screams of infantrymen as they ragdoll hilariously through the air. I've mailed EA for details, but I'm honestly not expecting anything concrete just yet. Oh well. I'll let you all know if I hear anything back.