Conano: Tiny Barbarian DX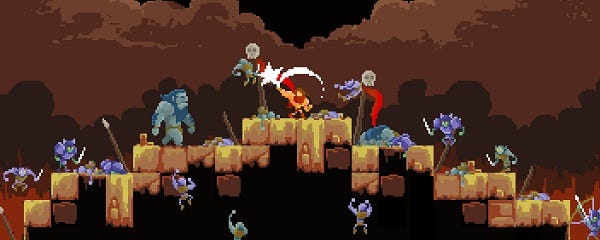 The original Tiny Barbarian was a splendid little platformer, with secrets to discover and monsters to be barbaric toward. Based on The Frost Giant's Daughter, an original Conan story, it was lovely and free. StarQuail are working on a semi-sequel, Tiny Barbarian DX, and it looks even more lovely and there's no indication that it will be any less free. Barbarians riding on top of animonsters immediately reminds me of Golden Axe and the way that arrows are chopped out of the air immediately reminds me of awesome, so I'm now referring to Tiny Barbarian DX as Awesome Axe. Or Golden Awesome, but that sounds like a rubbish wrestler or the most incredible apple ever grown. Video below.
I do not know what happened to the audio. It wasn't there earlier either.
Thanks to Chris Priestman for the tip.