Cosmochoria In Early Access: Nakedly Terraform Planets
Looks pleasant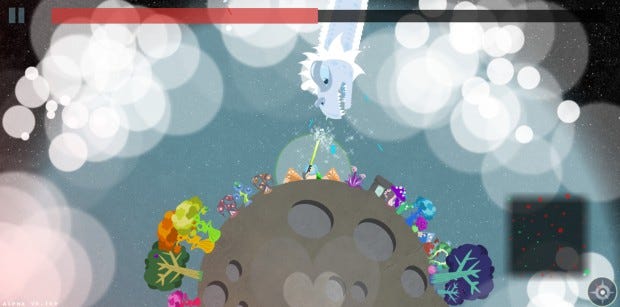 I've been in love with 2D games set upon small planets since Edmund McMillen's Aether, and Cosmochoria, released on Steam Early Access just a couple of days ago, covers similar ground. As a little naked man with a space helmet on, you bound across miniature planets, terraform them by planting flowers, and use a jetpack to launch into space to fight aliens and find new worlds to explore. Check the early access trailer below for a little taste of each.
Why are you naked? I suspect so that I would be able to write that you are naked when describing the game.
As you explore planets, bringing them back to life and fighting in boss battles, you'll unlock new weapons and abilities, like being able to build towers on planets which, presumably, aid in your fight against invading alien forces. I'm less interested in that than I am the floaty exploration of a dying galaxy and the discordant hums of the sad, chiptune soundtrack.
The Early Access period is being used primarily to give the developer time to add more content to the game.
While the core gameplay and essence of the game is already playable and enjoyable, having it in early access will allow me to gain a wider audience for the game while still continuing to add additional content (items, bosses, enemies, costumes, story depth, etc) to the game in preparation for a final release."
Cosmochoria is £7 on Steam, with 10% off for the next week. It'll be the same price when it's done sometime early next year.