CS:GO Readies, Steadies, Is Almost Go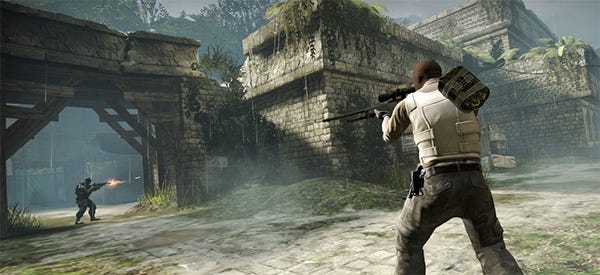 Lamentation at the ongoing lack of a new Half-Life there might well be, but Valve sure are launching a lot of games round about now. Dota 2 is quietly infecting the brains of a small army of people with a new type of language, Team Fortress 2 has just turned into a strange, voucher-based co-op game, and Fart Cops of course continues its unassailable dominance of the game charts in China. Then there's Counter-Strike: Global Offensive, which moves from long-running beta to A Thing That You Can Pay For And Play today, specifically in about five hours from now. It's pretty cheap, too - £10.79/$13.50 at the moment. Who's playing/will be playing? I admit, I'm tempted. It's been long years since I used to ineptly stagger around CS 1.6's Dust in the PC Format office, but I have a certain affection for the game's quiet viciousness. The time very much seems right for its latest rebirth.

I've given the beta only the quickest of spins, and was relieved to see that it hadn't put much in the way of funny business in the way of the game proper. Arms Race Mode, wherein you're rewarded with a new weapon for each successful kill, made a lot more sense in practice than on paper, and did a good job of offering short-term personal goals rather than purely the traditional There's No I In Team mentality.
Anyway, I am absolutely blathering here. The news is that CSGO is out in mere hours, and that the launch patch notes say they're adding quasi-official support for the zombie mod. Like CSS before it, CSGO will be a quiet giant, you mark my rather obvious words.