Retro Horror Adventure Now Haunting PC: Dark Fear
A Cabin in the Woods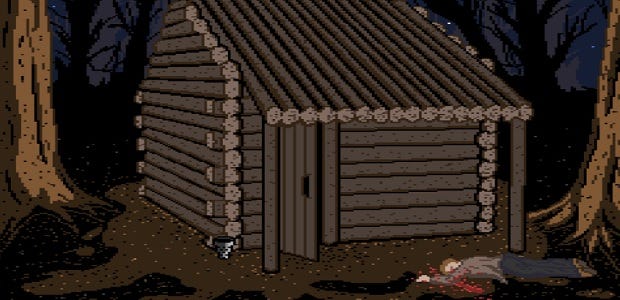 Dark Fear [official site] is part adventure game and part RPG, with similarities to Horror Soft's titles from back in the day. I first played it on a tablet and am pleased to see it make an appearance on PC. It's the kind of retro game that imitates its inspirations but also builds on them. It managed to startle me a couple of times, although I was playing in bed, lights off and headphones in, at some small bewitched hour. Trailer below.
Hunting, fishing and fighting. Scary monsters and creepy faces watching from the windows of seemingly abandoned houses. It's a horror game, alright, and that's precisely what I need right now. A good bit of fake fear to distract from whatever might be happening in the real world. Has anyone read the news today (oh boy)?
I never did finish the game on tablet and I'm not entirely sure why. I was enjoying it well enough and do spend a fair bit of time tapping away at the screen when I'm travelling but Dark Fear felt best played in the peace of my own home, and perhaps the PC and the TV distracted me too often. I'm looking forward to starting all over again later, once the night has settled in.
The PC version is £2.79, via Steam.