Dark Souls: Remastered is half-price for original owners
Praise the sun!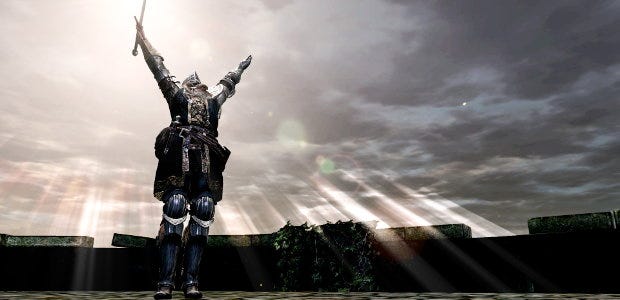 Folks who have the original Dark Souls on Steam will be offered a 50% discount on the upcoming Dark Souls: Remastered, Bandai Namco confirmed today. The revisions and additions in the Remastered edition aren't huge but if you fancy returning to a fancier Lordran, that beats paying full price.
Remastered will be the only way to buy Dark Souls on PC, as Bamco also announced that they'll remove ye olde Prepare To Die Edition from sale on Steam in a few weeks.
The console editions of Dark Souls: Remastered cost £30 and I wouldn't expect it to be much, if any, cheaper on PC. So maybe £15 if you own the original? Some remastered games have been cheaper to upgrade to, some have cost more.
Dark Souls: Prepare To Die Edition will be removed from sale on Steam on May 9th. If you already own it, it'll still be in your Steam library and you'll be able to download and play that edition - it simply won't be available for other people to buy.
Are there reasons you might want to buy the original edition rather than Remastered? [Edit: whoops yeah, mods certainly.] Historical interest, perhaps. And we don't yet know the full extent of changes, so perhaps some might not be to everyone's tastes. I'm not mega-into the sharpened textures myself. But hey, if you want the original, buy it now.
Dark Souls: Remastered is due May 25th on Steam.
Here, have a new trailer showing some familiar nasties:
That certainly is Dark Souls, remastered.