DARPA's Anti-Submarine Warfare Game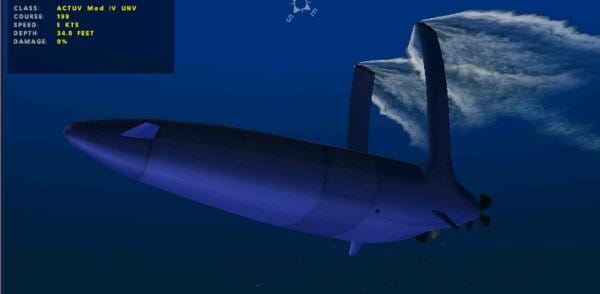 Do you want to help Defense Advanced Research Projects Agency (DARPA) to develop new anti-submarine tactics? Well, then you don't necessarily need a degree in underwater battle-conflict, and instead you can play ACTUV Tactics Simulator. DARPA explain: "This software has been written to simulate actual evasion techniques used by submarines, challenging each player to track them successfully... As you complete each scenario in the simulation, you may submit your tracking tactics to DARPA for analysis. DARPA will select the best tactics and build them into the ACTUV prototype."
It's a fully fledged simulator by the looks of it, with a big old single player campaign and even a multiplayer set up for submarine battles. Worth a look if you like a bit of frightening realism. Free, obviously. And you also get to help the US military fight the scourge of the waterways: rogue cannibal submarines.