Deadpool Is A Videogame With All The Things In It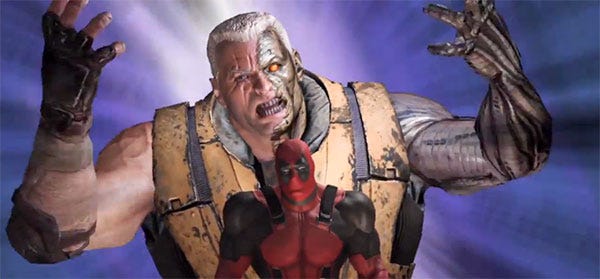 My Laugh-o-Tron 3000 calculates that this launch trailer for High Moon's superhero manthumper Deadpool is 30% funny and 70% slightly annoying. I know, I know, the Laugh-o-Tron 4000 is supposed to be far more accurate, but I still stand by my old 3000 even though it once determined that Call of Duty: Black Ops was surely written by Gilbert & Sullivan.
Deadpool, which stars the titular fourth-wall-breaking, boundlessly trash-talking Marvel anti-hero, is out now in North America but is of course held hostage until Friday in the UK. It's from the studio who brought us the most recent pair of Transformers games, and it includes flying rainbow tigers, Wolverine, dubstep, tacos, jet-powered bicycles, casual chauvinism and retro platforming.

It's pretty tiring to watch, if I'm honest/old. In fairness, I can't think of many mainstream games that include this degree of apparent off-the-walledness, so I'm curious to see how and if this degree of chaos hangs together in practice. I also like the idea of seeing one of Rob 'Tiny Feet' Leifield's most preposterous muscle'n'pouchmen being turned into grumpy fast food. This is quite the frenzied trailer though:
Let's hope it doesn't turn out to be Duke Nuke Forever with a Wolverine cameo.