Decimal Kill 'Em All: Binary Domain On The PC In April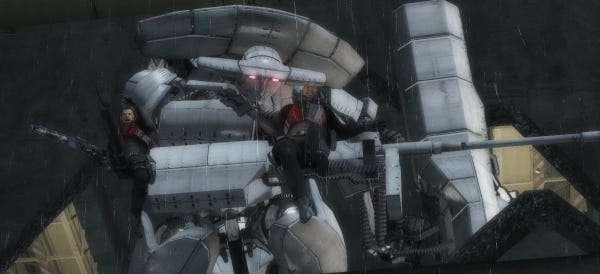 Hold on, just upgrading my firmware from 'I really want to play Binary Domain' to 'I'll get to play Binary Domain in April'. It's patching... ah, that's better. As a robot disguised as a human, I'm thrilled Sega's third-person shooter about shooting robots disguised as humans is being ported over to the PC. Sure the third-person shooter might have cool things like robots that keep coming at you when their limbs are blown off (like Uncy Terminator), this guy, and voice control, but it also has the consequence system that responds and to the way you play. I know humans, and you lot are saps: by the time you are done with Binary Domain, us Hollow Children will have you right where we want you. Pretty soon a human servant will be serving me chilled glasses of diesel by my lava pool, and feeding my kitten-bot old computer mice. Use your puny human eyes on this video below, for it is the first step on the road to binary domination.

The console only shooter has gained a reputation as a solid, sometimes broken, sometimes spectacular Gearsy shooter. You take a squad of humans into the slums of a futuristic Tokyo and blast away at the bad bots. I'm rather looking forward to it.