Deus Ex Continuing With 'Universe,' New PC Game
More than human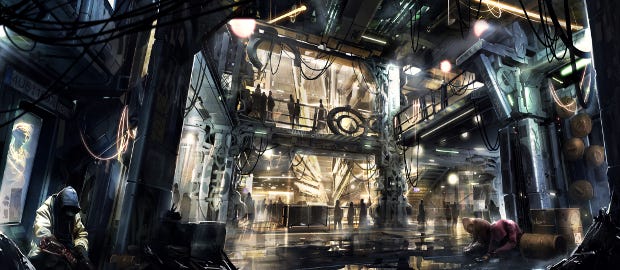 Against all odds, Deus Ex: Human Revolution was marvelous. It wasn't quite a perfect continuation of the original's legendary legacy (and those boss fights were utterly atrocious), but it let us dissect a rich and, um, very gold cyberpunk world with a surgeon's belt of clever tech toys. Also vents. Just the right number of vents. But what's next? Well, Deus Ex: Human Revolution - Director's Cut is coming out on October 22nd, but that's just tying up some loose ends. Deus Ex: Universe, however, is the future, and it promises to be quite grand in scope indeed.
Eidos Montreal head David Anfossi explained his studio's plan for the series going forward:
"The concept behind Deus Ex: Universe is to create an ongoing, expanding and connected game world built across a generation of core games. It's a commitment on our part to deliver meaningful content that expands the franchise on a regular basis and to deliver a deep conspiracy that will span several connected Deus Ex games, creating a more immersive and richer experience than ever before. Deus Ex: Universe will include PC and console games, but also additional Deus Ex games and experiences available in other media such as tablets, smartphones, books, graphic novels, etc."

"I'm pleased to confirm that we are already into production of the starting point for Deus Ex: Universe with a new game for PC and next-generation consoles."
The above image is a piece of art from the new game. It depicts the results of "trans-humanism segregation," which will apparently be a major theme all throughout. The location is a ghetto city built by people pining for the good old/new/imaginary days of the Cyber Renaissance, a home built on trash, treasure, and memory.
So hooray, new Deus Ex! But also, hmmmmmmmm. I'm not sure how I feel about Deus Ex having its own trans-human transmedia conspiracy, as multimedia storylines always sound great on paper, but their end results tend to be unwieldy, confusing, and of course, expensive. Also, frequently gimmicky. If the stories are roped off from each other such that none are truly essential to gaining a full picture of others, that's fine.
But it's impossible to say how Deus Ex: Universe will turn out at this point. My hope, above all else, is that Deus Ex keeps its wits about it. If "Universe" is corporate code for "annualized sequels ala CoD/Assassin's Creed, spinoffs of spinoffs, and endless, spoilery advertising," well, I doubt I'll be on board. Sometimes, less is more.