NAZISAURUS: Dino D-Day Beta Next Week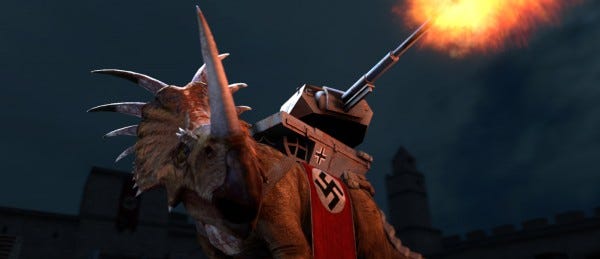 I know this looks like an April Fools' post, but bear with me. Dino D-Day, the Source engine-powered downloadable multiplayer game that Kieron posted about back in November will be genuinely entering an actual closed beta on March 1st, with all 12 classes (or rather, 9 classes and the raptor, dilophosaur and desmatosuchus). Those interested in acquiring a beta key (and how could you not be) should follow Dino D-Day on Facebook and Twitter, say the developers. I am genuinely excited about playing this with Spotify belting out some Wagner in the background. Full press release after the jump.

Between this and Depth, it seems like ambitious asymmetrical multiplayer scene is alive and kicking. A very good thing!
Dino D-Day…the only game that gives you Nazis AND Dinosaurs

Dino D-Day is a frantic, action-packed multiplayer game that transports you to a World War II that should have been. You and your friends will battle online choosing to join either the Allies or the Axis team. The Allied side includes six playable characters each with unique weapons and abilities to use in combat. Gun down a Dilophosaur with your trusty M1 Garand, blast a kamikaze Pterosaur out of the sky with your Thompson sub-machine gun, toss out a dead jackrabbit to lure a Raptor into a trap.

As an Axis player you have your choice of three human classes and three dinosaur classes. You can ambush the Allied enemy using speed and stealth as the Raptor; mercilessly pound them with a heavy 20mm gun fixed to the back of the Desmatosuchus, rampage through tight groups of enemy soldiers as the Dilophosaur, pick up a body and throw it at an enemy for a double kill! The German soldier classes are the perfect complement to their dinosaur comrades.

The Beta version of Dino D-Day includes all 12 classes, including the playable dinosaurs. It ships with 1 map that is playable in both King-of-the-Hill mode as well as Team Deathmatch mode.

The full game will be released on March 29, 2011 and will be shipped with 5 maps and 3 Game modes. We intend to give the Dino D-Day community excellent value for their money by continuing to service the game with new maps, new playable characters, and new game modes FOR FREE.
About the Developers

Dino D-Day is being developed and published by 800 North and Digital Ranch. Digital Ranch was founded in 1994 by Robert Kirk and Rob Lihani and has produced multiple award-winning series for a variety of networks including Discovery Channel, Animal Planet, Tru TV, A&E, History, and Investigation Discovery. 800 North was founded in 2009 by Abe and Parker Scheuermann in partnership with Kirk and Lihani. Abe, co-creator and game designer of Dino D-Day produced many hours of television for Digital Ranch before starting work on Dino D-Day – including the smash-hit air combat series "Dogfights" for the History Channel.

Dino D-Day represents one of the first (if not THE first) attempt by a television production company to create and publish an independent video game.

The future of Dino D-Day

We have plans in place to continue developing Dino D-Day and the Dino D-Day community after the game's initial release. We plan on developing an entire singleplayer/co-op campaign that we will ship around this time next year. This will be more story-driven gameplay that will further develop the world of Dino D-Day and will even have interesting effects on the multiplayer experience! In addition to that there will be regular updates of the multiplayer game and perhaps a few other surprises in store as well!

Mark your calenders: March 1, 2011 the Dino D-Day Beta arrives! And on March 29, 2011 the dinosaur invasion of Steam will begin!