Distance Within Touching Distance, Public Beta In Autumn
Not using "going the Distance"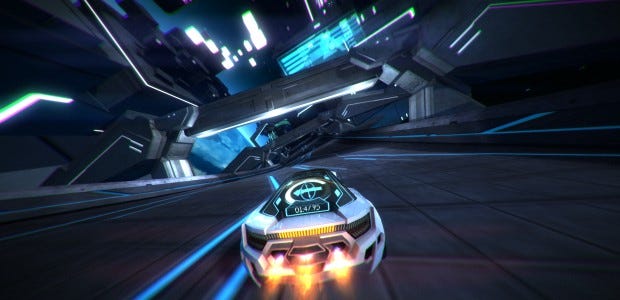 As forlorn lovers of future racers know, there's not nearly enough opportunity in videogames to speed coolly down neon streets to a propulsive, electronic soundtrack. That's why Distance was such an enticing proposition when it launched on Kickstarter back in 2012, swiftly securing more than it asked for. That's also why Distance is such an enticing proposition now, two years later, as it sits on the verge of launching on Steam Early Access. Let the trailer below try to convince you.
Then let the developers try to convince you:
Distance fuses the intense action of arcade racing with the exploration of a mysterious world. You control a unique car that allows you to boost, jump, rotate, and even fly through a chaotic city. The private beta currently features a short single player campaign, as well as additional split-screen and online multiplayer modes such as Sprint, Reverse Tag, Stunt, and Soccer. It also includes a powerful level editor which is connected to Steam Workshop.
That already-included Steam Workshop support has led to over 100 user-created levels already being made, meaning there should be a pretty haul to play come its eventually release. That should happen in Steam Early Access form this autumn, though there's no specific release date just yet.
In case you were wondering, the best bit in this trailer is still the moment when your car gets sliced in half but you're able to continue driving until the missing chunk re-materializes. Just as "Loneliness of the (Cut Down The) Middle Distance Runner" is one of the best tags I've ever used at RPS.