Doctor Who Infinity delivers new Who tales wrapped in a puzzle shell today
Jelly baby?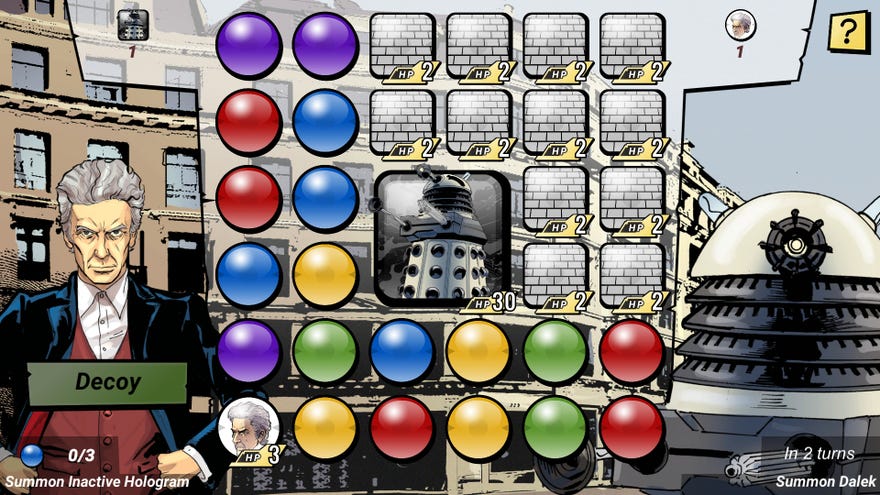 Doctor Who hasn't always had the best relationship with videogames (the less said about Dalek Attack, the better), but Doctor Who Infinity, released today, might just be worth a look. Successor to Doctor Who: Legacy on mobile (which I've been told is quite good), Infinity is a series of semi-animated and narrated Doctor Who comics, with action sequences playing out as a match-three puzzle. While it all sounds a little bit Puzzle Quest on the surface, there seems to be a little more depth and variety to this than I first expected.
Developed by Tiny Rebel & Seed Studio and featuring new stories from frequent Who novel and comic authors, the core of Doctor Who Infinity seems to be its episodic storytelling. Launching with three self-contained stories (each from a different writer - George Mann, Gary Russell and Scott Handcock in this first wave) it doesn't limit itself to a single Doctor. Peter Capaldi's twelfth incarnation may be leading the charge in the first story - The Dalek Invasion Of Time - but I spot David Tennant and Jon Pertwee's versions of the character in the trailer below.
While the 'action' part of the game - a match-three puzzle - appears simple at first blush, it appears Infinity frequently mixes up the formula. One mission I've seen in video previews had players outmanoeuvre and chip away at the health of a single tough boss Dalek, distracting it from the Doctor's piece on the board with holograms. Another was a more traditional strategy affair, with combos of colours summoning more troops onto the board to attack enemy units. While Infinity's key appeal is in its fresh Who stories, it's appears some effort made to keep the puzzle part varied.
Doctor Who Infinity is out now on Steam and Humble at £9.29/10/$11 for the first two stories, or in a couple quid extra for all three, again on Steam and Humble.