Mush! Dog Sled Saga Races Out Of Early Access
Snow Dogs, the video game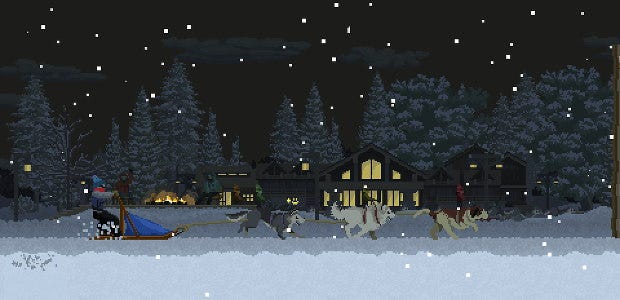 While folks have been getting excited for a certain racing game that's out next week, a racer of a different, furry-footed nature has crept out of Early Access to properly launch. Rather than the latest sports cars, Dog Sled Saga [official site] sees you building and racing a team of loyal pups, much like famed musher (that's dog sled speak for driver, mind you), Cuba Gooding Jr.
Dog Sled Saga mixes racing with a puppy management sim. From what I've played, each pup has distinct strengths and its own personality, and its quite easy to build a connection to your team. This makes it hard when you eventually have to retire older members out in favor of spry newcomers. You start out with a team of three, but you'll eventually expand your roster, choosing from a wide selection of breeds. The dogs need to be well cared for, both on the trail and at home if you want to succeed.
The game's also a treat to look at, as you race through stands of pine beneath heavy grey and blue Alaskan skies. The fluffy puppies are animated in loving detail, too, in case you weren't already attached to your team.
Dog Sled Saga is 10% off in honor of its official release, and you can catch it on Steam for Windows, Mac, and Linux for £5.03/€7.19/$7.19.