Don't Kall It A Komeback: Mortal Kombat Komplete Edition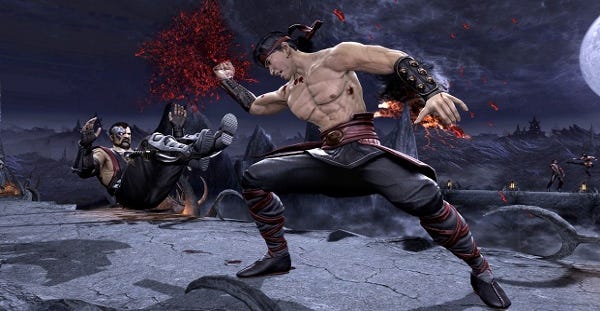 This post is brought to you by the incorrectly used letter K. No other letters, Egyptian hieroglyphs, or wingdings were harmed in the making of Mortal Kombat Komplete Edition. Just K, which has been forcefully fused with various words in some kind of bone-splintering reverse-fatality. But enough sighing over English's desecrated corpse. We're getting a videogame! The Komplete Edition brings together 2011's rather enjoyable series reboot and all of its DLC, so there'll certainly be plenty to do. Will it make up for two years of waiting? Fingers, subcutaneous arm blades, and limp, disembodied spines crossed.
High Voltage Software, they of Wii shooter The Conduit and, um, Kinect Star Wars, are handling porting duties. Originally, the heavy hitting gorebiffer was developed by longtime series sensei Netherrealm Studios, so here's hoping High Voltage does it justice. If nothing else, extra goodies are a start.
"Players enter the realm to face the Kombatants in Mortal Kombat Komplete Edition for PC , delivering all of the downloadable content, including intrepid warriors Skarlet, Kenshi and Rain, as well as the notorious dream stalker Freddy Krueger. Additionally, the game offers 15 Klassic Mortal Kombat Skins and three Klassic Fatalities (Scorpion, Sub-Zero and Reptile)."
Yep, Freddy Krueger's in for some reason. Mortal Kombat's been accused of a lot of things, but staying too far inside the Netherrealm of possibility has never been one of them.
If you just started having nightmarish visions of an eternal struggle between yourself and a woefully ill-suited keyboard-mouse setup, well, you probably have a pretty good life, all things considered. But also, don't worry too much. Support for both no-frills gamepads and the Mortal Kombat Tournament Edition Fight Stick will be included from the get-go.
Komplete Edition's releasing on July 3rd. Do you find this unexpekted announkement akkeptable(k)?