Dragon Quest Heroes II will slime PC too
Hack 'n' slash 'n' slime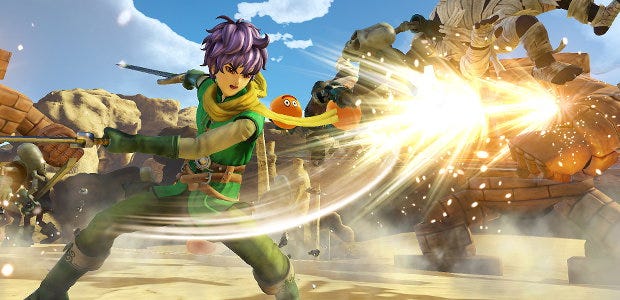 Square Enix have announced a PC release for hack 'n' slash action-RPG Dragon Quest Heroes II [official site], which previously they'd only confirmed for PlayThings. It's a spin-off from Dragon Quest, taking that RPG's setting into hack 'n' slash action made by Dynasty Warriors developers Omega Force. I believe Dragon Quest Heroes is a bit more RPG-y than most of Omega Force's games but is still ultimately about mashing through hordes of enemies - which is grand if you like both slashing and those adorable happy slimes. Here, have a look in this new trailer:
Dragon Quest Heroes draws together characters and monsters and all that from the DQ world for a new quest to save the world. Form a party, grab weapons, and go hack 'n' slashing. The cartoon-y Dragon Quest style is a little weird in such megaviolence but those slimes do have a dark side, don't they?
New to this sequel is multiplayer, with co-op missions for up to four players.
Dragon Quest Heroes II is due to hit Steam on April 25th.
If you're into Omega Force's Warriors style of game, hey, a new one based on the manga Berserk just came out and a new Samurai Warriors is coming to PC in May.