Duochromatic nightmare FPS HellScreen seeks funding
Squids in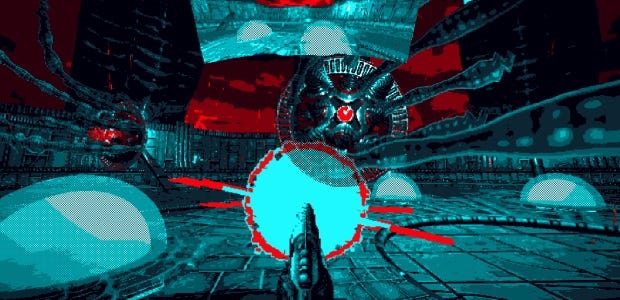 The nature of some games just can't be conveyed by a single screenshot. HellScreen above is a perfect example. Unless you know that you're looking at a Doom-style FPS using an imposing and intense two-colour palette and providing the player with a rear-view window for situational awareness, you'd probably just think your were looking at a wall of mechanical noise, instead of a man battling a robo-squid.
This makes HellScreen a bit of a hard sell, but I do hope that you'll all take a look at the Kickstarter trailer for the game within.
What we've got here is an old-school FPS where you strafe around at an improbable speed and battle swarms of enemies that attempt to hem you into making a mistake with salvos of chunky, avoidable projectiles. All this portrayed in a palette of sickly bio-mechanical metallic blues and dark, bloody reds, wrapped in architecture inspired by nightmare-channeling artists like Giger and Beksinski.
While Devil Daggers seems an immediate point of reference given the grungy, low-fi aesthetic, HellScreen is a little less likely to burst through your monitor in the guise of a shrieking, horned skull to tear your soul out through your kneecaps. This is a more traditional level-based shooter. Explore the area, fight the baddies, collect new guns - Doom-ish, albeit with a little Metroidy edge of returning to past levels with new abilities (such as double-jumping) to access new routes.
Going in nearly the direct opposite direction to Devil Daggers, HellScreen even promises progression through death. Pick up soul orbs over the course of a playthrough, and you can invest them in upgrading your base stats for the next time you play. It's an unusual blend of elements, and the aesthetic and genre inspirations definitely have my attention.
HellScreen is a very small-scale project too, developed single-handedly by Jamie Degan, a man with his name in the credits of many games, but headlining none to date. He's backed up by composer Matthew Pasternakiewicz, who's providing the accompanying electro-metal wall of noise that they're calling HellScreen's soundtrack.
At the moment my main concern is that most of the enemies shown so far are weird, abstract floating things. The squid-like enemies do look rather impressive, and there is some appeal in an cyber-cephalopod that projects shields of 'blood energy', I'll admit. Still, there's something to be said for enemies at least vaguely man-sized and visibly angry, even if that does play against the completely alien environment the art-style is shooting for.
Sadly, as much as I love the look of HellScreen, it isn't exactly raking in the cash on Kickstarter at present. I hope that whatever happens with this crowdfunding drive, development will continue in some capacity and hopefully one of the better indie publishers might turn their attention to the game.
HellScreen is 26 days from the end of its Kickstarter, and has raised £2,780 out of a required £25,000 so far.