EA GC2010 Press Conference Round Up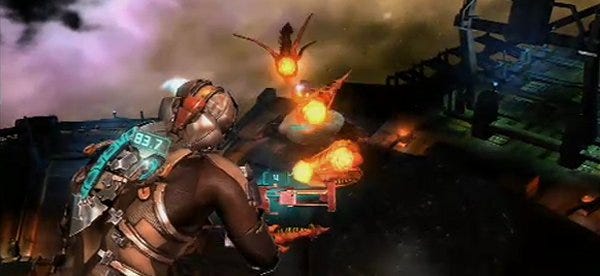 The EA GamesCom 2010 press conference has been wrapped up - and there was no Battlefield 3 showing - but there is some interesting material in there. I've quickly jotted the relevant stuff below.


- The Sims Medieval looking pretty promising as a kind of pseudo-RPG adventure, complete with faux-medieval simlish. There it's a classic fantasy template with wizards, sword-fights, and evil princes, and will apparently enable you to craft "medieval" quests and adventures in a way similar to that seen in The Sims 3 (it's pretty much the same engine and so on.)
- Meanwhile, in a quite different way, Dead Space 2 looking, well, pretty mental, frankly. An amazing (although presumably fairly non-interactive) sequence of Isaac taking a rocker-propelled ride through space/hefty particle effects made me get a bit giddy. - Medal Of Honor does an authenticity dance for us, with identity-obscured advisors from real military soldier places talking about how much their feedback has delivered realism the Medal Honor we're going to be playing. It's looking like it will at least be entertaining.

- Dragon Age 2 had an impressive CGI trailer in which the lead character fights some kind of demon fella, before getting so cross that fire comes out of his eyes and he has sudden access to crazy trans-dimensional magic. So no game footage, but exactly the kinds of baddy-bludgeoning, blood, and chainmail that we were expecting. Oh, and Dragon Age 2 is out March 8th in North America, and March 11th in Europe.
- Crysis 2 was a little unclear, to be honest. I liked the chatter about the configurable nano-suit, which implies you're going to be able to modify the game to play according to different styles, but the multiplayer was a little opaque. A lot of guys getting shot. The most impressive aspect of it was probably the rank of networked gamers nearby.


- Bulletstorm looked commendably insane, too, although framed in a dialogue made from pure ham. Not sure about the super-busy HUD informing you of all the keeerazy bonus moves you are pulling off, either, but the sheer ludicrousness of a city being torn down by some kind of mega-wormlizard - as well as that four-barreled shotgun - means this game is probably going to get a free pass onto the Rossignol hard-drive. Um.
There was also some news about FIFA 11. I am sure we'll figure that out later.