Eggggg blowing chunks on PC in spring
Bounce by boaking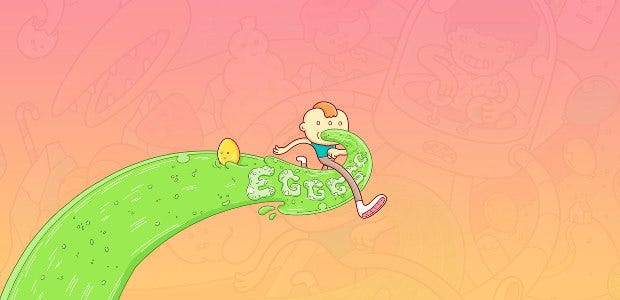 1) Eggggg is a great game name.
2) eggg.gg is an even better domain name.
3) Eggggg - The Platform Puker [official site] is meant to be pretty fun in its original pocket telephone form.
4) Eggggg looks cute for a game full of hurling, honking, spewing, and blowing chunks.
5) Eggggg is headed for a PC release next year, hence this list of important points.
Look at this delightful/awful thing:
It's a platformer where, obviously, you bounce by boaking. Your barf is also used for things like filling a pit so you can float up to the top and escape. How charming. I do like its cartoony world with its Sonic-y critters to bop.
Norwegian developers Hyper Games plan to release Eggggg in spring 2017 and have turned to Greenlight to get it onto Steam. They say:
"Although we released it on mobile first, the team always played using keyboard in development - and that is what feels most natural to us. Playing using actual buttons really makes the game an even better experience."
They're sticking with its curious two-button controls, where one tap in a direction makes you run that way then a second tap there makes you jump. They say, "Sounds strange? It is, but once you get the hang of it it offers really great and accurate control."
Sure, I'll give this a heave.