Elgato's Stream Deck Mini box arrives today for $100
Going down stream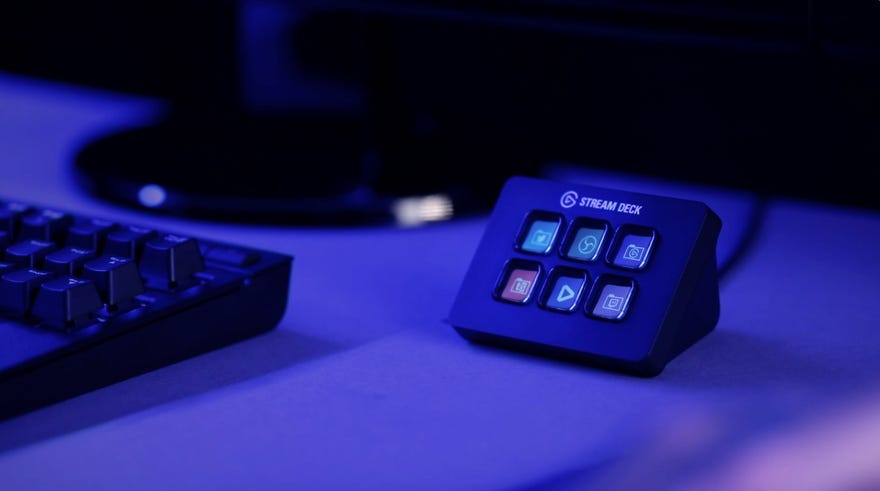 When you think of Elgato, the first thing that probably comes to mind are their video capture doodads with the many cables and names like HD60. If you're an avid Twitch streamer, though, you may be more au fait with their many-buttoned Stream Deck controller instead. Well, it's the latter family Elgato are growing today, as they've just announced the arrival of the Stream Deck Mini.
As its name implies, the Stream Deck Mini is a smaller version of Elgato's existing streaming control box, touting six customisable LCD buttons instead of the usual 15. But what is a Stream Deck controller, anyway, I hear you ask?
Essentially, it's a one-stop shop for interacting with your stream audience - whether that's automatically posting something to social media at the start of a stream to let them know to come and join you, activating special animations or GIFs over your footage, or book-ending your stream with your own custom intro and outro graphics. Stuff like that that will keep the internet meme factory happy while they watch your every move.
To see what that means in action, have a watch of this trailer for the original Stream Deck.
The Stream Deck Mini, then, is a more petite version of all this, but that's not to say it skimps of functionality. In fact, you still get all the same features as the full-fat version, including native integration for OBS Studio, XSplit, Twitch, Streamlabs, YouTube, Twitter and Mixer to name just a few. You can also drag and drop actions onto any of its six buttons and assign ready-made icons to them, or even create your own.
It also comes with a more affordable price to match its smaller stature. While the regular Stream Deck controller starts at £135 / $140, the Mini goes for just $100 (UK pricing to be confirmed).
It also comes with a two-year warranty, and since Elgato's gaming division was recently bought by PC peripherals giant Corsair, you also get access to Corsair's customer support service in case anything goes wrong.
I'll be pestering RPS video people Matthew and Noa to help me test this very soon, so together we should be able to tell you more about how it all works and whether it's actually worth buying over the next couple of days.