Escape Velocity Successor Endless Sky Available Now
Free and full of stars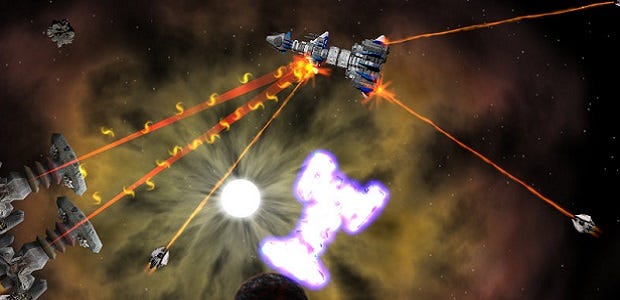 Although not made by members of the original team, Endless Sky [official site] is the closest thing to an Escape Velocity game since the release of Nova in 2002. For those who don't know Ambrosia's series, the Escape Velocity games are singleplayer space-based roleplaying fare, sort of like top-down Elite, with all the trading, combat and freedom your pioneering heart craves. They're excellent and Endless Sky, now available on Steam for Windows, Mac, and Linux, appears to live up to the legacy. It's free, open source and there are 50+ ships to own and modify as you work your way across the galaxy.
*Do not adjust your speakers - there's no sound. Put on whatever your space music of choice is while you watch. I'd recommend this.*
The game was already available to download when I last wrote about it but the Steam release coincides with the addition of the first of three planned storylines, made up of a cluster of missions. There are also plans for Steam Workshop support, so that all of the possible mods can be shared with ease (Star Trek and Wars conversions are surely being mapped out already).
Other plans involve changes to the UI and graphics, as well as the incorporation of additional alien technologies and creation of fully populated space sectors. In the brief time I've spent with the game, the most impressive aspect has been the reactive nature of AI ships. There's a proper sense of existing within a galaxy where business, war and piracy are actually happening, dynamically, rather than being dropped into a sandbox where the only castles are the ones you build yourself.
I think Space Rangers 2 has finally been replaced, having dwelled in one of the innermost chambers of my heart for several years now. Grab the game and the editor and build a new galaxy. It's a special game, Endless Sky, and hopefully it's open-source future is as bright as this beginning. And, yes, it's a 'beginning' that comes after years of hard work.