Happy Ending! Epistory Riding Fox Out Of Early Access
Typing of the Secrets of Raetikon?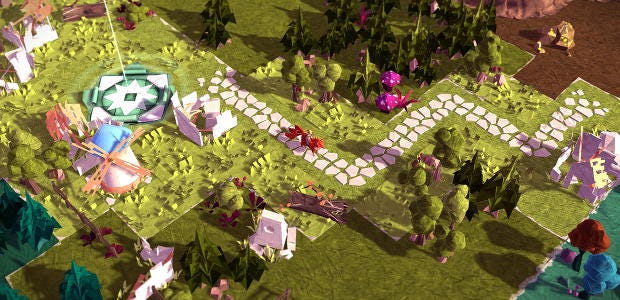 In Epistory [official site] you play as the muse inside the head of a writer facing a block, and you'll create and expand the world as you, huh, type. Yes, it seems that gameplay is largely a Typing of the Dead-style affair, but it looks pretty, and you ride a giant fox! I wish I could ride a giant fox. Or that I was smaller so I could ride a regular fox.
The game is getting a full release on March 30th after a few months spent in Early Access. I'll tell you more, but only if you help me through my writer's block by clicking the jump.
Belgian devs Fishing Cactus describe it as "an atmospheric action/adventure game" but you'll fight enemies and interact with the world by typing words. The latest trailer doesn't show very much aside from the release date, so here's the early access trailer, which should give you a better idea of what it looks like and how it plays.
The world is made of origami, unfolding for you as you progress. You'll be using your typing skills to battle "an insectile corruption" and help the writer finish their story. On release, Epistory will feature the complete story mode as well as an "infinite combat mode" with leaderboards, if you fancy knowing how you stack up against the fastest keyboards in the west. Also, I'm not entirely sure, but one of the bullet points on its Steam page sounds like it's spoiling the plot twist: "Discover all words you type have a deeper meaning and might influence the outcome of the story."
Keep in mind that it's still in early access, but the price will go up slightly with the full release. It runs on Windows, Mac and Linux.
The visual style and the atmosphere are enticing, it reminds me of Secrets of Raetikon, I'm just not sold on the typing thing, it may get old real soon. But maybe I'm wrong. If you've tried it, share your opinion below. Also, let me know what animal you'd like to ride but can't. (I'd squash that poor fox.)