Evochron Legacy Blasts Off Into Sandbox Space
Sim me up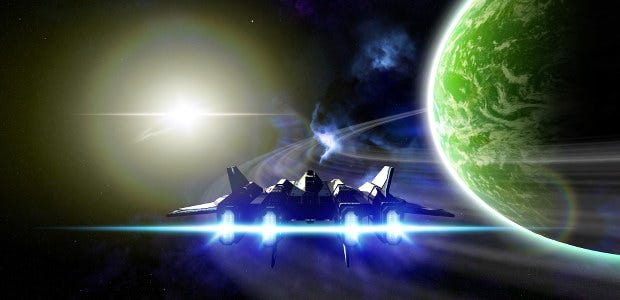 I've always been impressed that sandbox space sim series Evochron is mostly the work of one man, StarWraith's Shawn Bower. Heck, I'm even more impressed now big names and big budgets have now returned to space sims as points of comparison. I'm awful at Evochron--always floundering and giving up in demos--but I'm glad it exists.
So hey, look, Evochron Legacy [official site] came out this week. It has a demo too.
First, the basic Evochron pitch from StarWraith:
"Evochron Legacy is a freeform space flight simulation that focuses on 'lone-wolf' survival gameplay and pilot controlled spacecraft management. The environment setting is a vast seamless style universe where you can perform many activities including buying, trading, spying, racing, escorting, delivering, emergency responding, mining, exploring, weapon/equipment crafting, cleaning solar panels, clearing paths through asteroid fields, recruiting, protecting, hiring crew members, fuel harvesting, building stations/cities, and designing/selling ships."
It's got online multiplayer on top of singleplayer offline play.
What's new to Legacy? Ah. Do you want me to make that snappy? Summarise it neatly? Well, as ever, Legacy is an evolution of Evochron rather than something radically different. Looks like new things this time include an economy more responsive to players affecting supply/demand, more detailed planet surfaces and the ability to build cities on them, new weapons, new technologies to play with, new types of contract, and new models and textures for loads of ships and stations and whatnot (made by a modeller Bower hired). Here, dig into this development page for many more details.
Evochron Legacy is £17.09 on Steam, including a 10% launch discount, and $24.95 (about £23 including taxes) from StarWarith. Folks who own Evochron Mercenary can probably get a 40% discount, automatically on Steam or through here for StarWraith.