Expandalone Alone: Company of Heroes 2 Ardennes Assault
18 missions in the Battle of the Bulge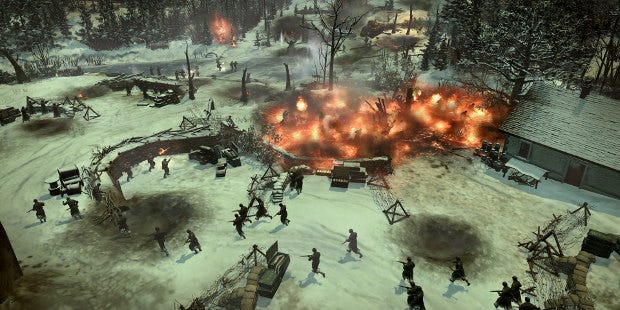 The last we saw of Company of Heroes 2 was multiplayer expandalone The Western Front Armies, but what about people who prefer single-player? Don't they deserve expandalones? Aren't they inherently more alone? Hold your horses and hang onto your butts, dear single players, as Relic today announced Ardennes Assault, an expandalonealone for CoH 2 seeing US Forces fending off Germany's Oberkommando West during the Battle of the Bulge. Sure sure, 18 new missions, great, but also: troops are persistent across the campaign.
Those two armies are, of course, the ones added in Western Armies, so this is giving them something to do in single-player. Rather than paraphrase, here's wot the announcement sez:
Company of Heroes 2: Ardennes Assault will feature three entirely new Companies to choose from within the US Forces, each with their own unique Officers and play-style. Players will see their decisions and actions reflected across the Ardennes landscape in this dynamic new single-player campaign. Player choices are crucial as every decision will not only impact the story but also their Company with upgrades and Veterancy carrying over from mission to mission. With limited soldiers under your command, you must manage their lives and well-being effectively or risk losing that Company for good. Will you lead your Company valiantly and emerge as heroes?
I enjoyed the persistent progression side of Dawn of War II an awful lot, so I'm glad to see Relic playing with that idea a little in its parent game too. We don't really have anything of the game to see beyond three screenshots, though. Relic planned to host a livestream today, presumably to announce the game, but it came out as 15 minutes of a placeholder screen with occasional keyboard clacking, giggling, muttering, and the Steam error sound. What a strange game this is.
The aloneexpandalone will hunker down on Windows on November 18th. Have two more pictures: