Fantavision, 2000's PS2 firework puzzler, proves again that all games come to PC eventually
Fantavision 202X supports VR and 4K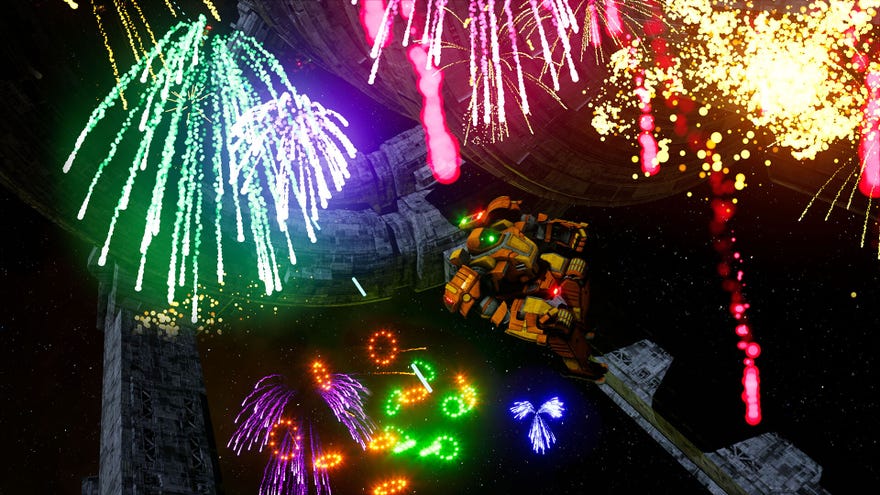 I spent time last week watching old, Japanese PlayStation game adverts after puzzler Humanity referenced them in its own trailer. Among those adverts were several for Fantavision, a little-loved colour-matching puzzle game about firework displays from 2000.
Imagine my surprise when today Fantavision showed up on Steam.
It turns out Fantavision got a re-release last month as a launch game for PSVR2, under the name Fantavision 202X. While the original was developed by Sony's now-shuttered Japan Studio, and published by Sony themselves, the 202X release on Steam is credited as being developed and published by Cosmo Machia, who previously handled Steam ports of PS2 shmup Castle OF Shikigami and its sequel.
Which makes it a little less odd that it has appeared on Steam now - but it's still odd. Fantavision is a real-time puzzle game in which players match flares with different colours and symbols, by controlling the direction of a beam. Once you've matched three or more flares, you can detonate them, causing them to explode like colourful fireworks. Developed by a small team as a PlayStation 2 launch game, Fantavision was designed in part to show off the PlayStation 2's particle effects.
Its particle effects still look pleasing 23 years later, even if they're no longer technically impressive. I'd imagine they look pretty good with a VR headset, too.
Aside from VR, Fantavision 202X also supports 4K resolutions and has a replay mode. It costs £15/$20 from Steam.