Far Cry 4, Assassin's Creed, The Crew Not On Steam In UK
Oh. Great.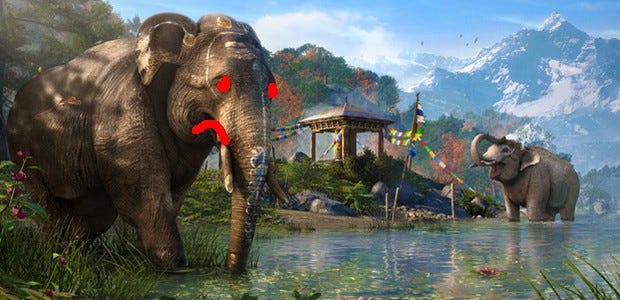 U-boo-soft, more like. It looks like the developer of Far Cry 4, The Crew and Assassin's Creed Unity won't be releasing any of those games through Steam in the UK.
Speaking to PCGamesN, the publisher confirmed that they have been in discussions with Valve about Assassin's Creed Unity, "but for the time being the game is not available via Steam in the UK. In the meantime, UK customers wishing to purchase the game digitally can do so by visiting the Uplay store, our retail partners or other digital distributors." The Crew and Far Cry 4, meanwhile, are listed on Steam throughout the world but not in the UK, suggesting they might befall the same fate.
This isn't merely an issue of not being able to enjoy the convenience of Steam, or even about avoiding Uplay, since all Ubisoft games require the service regardless of where you buy them. Instead, the greater issue is that Uplay prices tend to be higher than on Valve's service. To buy Assassin's Creed Unity via Uplay will cost you £50 for example, or £40 as an incentive to pre-order.
Ubisoft haven't said why Assassin's Creed Unity or those other games won't be available through Steam, or why that decision is UK-specific. It's not the first time something like this has happened, though. When Bethesda and Splash Damage game released Brink back in 2011, it quickly vanished from the Steam store in the UK. It was rumoured at the time that this was because of UK-specific deals made with brick-and-mortar retailers.
Game developers and publishers are obviously free to release their games wherever and however they like, but even as someone who has never experienced serious technical problems with Uplay, this seems a shame.
Correction: This post originally stated that Assassin's Creed Unity cost £50 to pre-order. The pre-order price is £40, while the full price is £50.