It's spring again, so play It's Spring Again again
Welcome the vernal equinox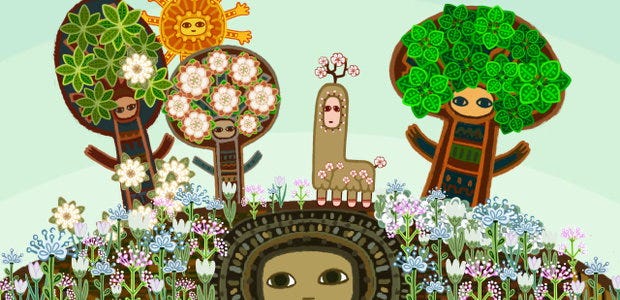 It's spring again. Today is the spring equinox, heralded by green buds on trees, lambs frolicking in fields, and hailstones pinging against my window this morning. But what is this season 'spring', and where does it come from? The only way to answer this is to play It's Spring Again [official site], again.
It's Spring Again, to refresh your memory, is a lovely picturebook travelling through the seasons of a wee happy planet. Winter leads to spring to summer to autumn to winter and then -- get this! -- back round to spring again. It's pretty, it's charming, and it's highly educational.
As I've said before, ostensibly It's Spring Again made for children but I don't think children can fully appreciate the joy of a rainbow tip-toeing into scene like a millipede arched in a yoga pose.
It's Spring Again is £0.79/0,99€/$0.99 on Steam. I highly recommend paying £1.99/2,99€/$2.99 for the Collector's Edition which includes a recording of the Russian puppet show the game is based on.
The It's Spring Again gang are currently working on One Eyed Kutkh, an adventure game exploring Russian folklore with a friendly spacemonster. They thought about making it a puppet show but decided a game was the way to go.
Meteorologists might tell you spring begins on March 1st but they can flip right off. Is it any wonder the climate's gone wild with these heathens denying the sun?
New seasons always send me back to Coil's equinox and solstice EPs. Between It's Spring Again and Moon's Milk Or Under An Unquiet Skull, I think spring's off to a great start.