Fastbear: Five Nights At Freddy's 4 In Works, Due October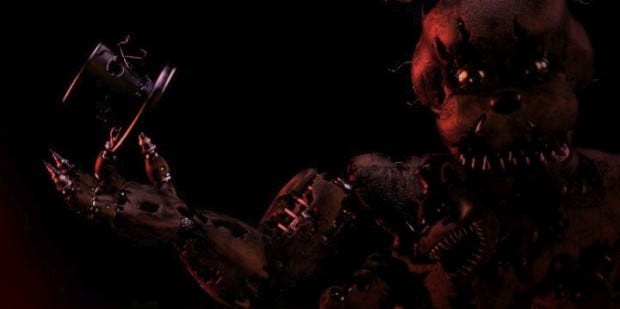 Horror fans: you can stop mourning the cancellation of Silent Hills now. Developer Scott Cawthon has teased "The Final Chapter" of his Five Nights At Freddy's series, which suggests that Five Nights At Freddy's 4 [official site] is on the way. And if the teaser image is to be believed, it'll arrive on October 31st, 2015.
The Five Nights games are dependent upon the mysteries that they contain, so it's unlikely there'll be any more information forthcoming soon beyond the release date. I suppose the teaser image means we can assume, as if the name didn't suggest it already, that animatronic horror Freddy Fazbear will return.
It is more interesting that this is apparently the last game in the series, however. The first three FNAF games have been developed and released at breakneck speed, with the first game coming out in August 2014, the sequel in November, and the third in March. They're also tremendously popular, as evidenced by the 217 Five Nights At Freddy's fangames that obsessed Alice back in January. There have been about a thousand more released since then, too.
Don't know what all the FNAF fuss (FNuss) is about? Prepare for the game's possible movie adaptation by reading about Adam's fascination (FNAFination) with the first game and his visitation with the third.