Flies Like A 4X: Legends Of Pegasus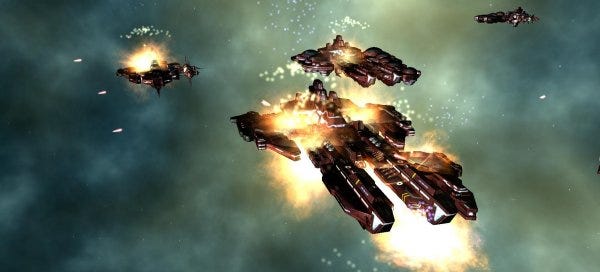 Kalypso send word that they are going to be publishing a 4X space game by Novacore Studios in Q1 of next year. The description of it makes Legends Of Pegasus sound like every 4X game ever made: "The 4X space simulation will put players in control of the last surviving humans, as they explore space in a quest to expand their galactic empire. Players will conquer and explore an incredibly detailed 3D universe as they use economic, diplomatic and scientific means to expand their empires. Through a deep technology tree, players will unlock new technologies to customize their ships and prepare their fleets for the next alien encounter…" No winged horses to be seen, so far.
But I suppose it might have something neat going on that we don't know about just yet. Novacore themselves are some kind of German academic spin off from University Duisburg-Essen, so they've no previous history of games for us to infer anything from. Feature list below!

- A complete 4X science fiction gaming experience- eXlore, eXpand, eXploit and eXterminate your way to galactic conquest

- Tactical space combat – featuring a unique mix of turn-based and real-time strategy gameplay

- A realistic, immersive universe – three races and 12 playable factions exist in a living-breathing universe populated by a huge variety of non-player civilizations

- Play alone or dominate with friends – an extensive single-player campaign coupled with a strong multiplayer focus ensure an engaging experience

- Massive customization options – design, build and deploy ships created from research into hundreds of technologies based on an extensive tech tree

- Make it yours – modding options will be available, allowing players to customize missions, maps and more
Might be good. Might be average. Might be poor.