Five Nights At Freddy's World Re-Released For Free
Back better and cheaper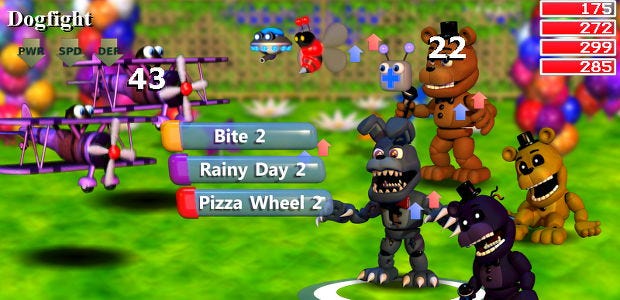 FNaF World [official site], the RPG spin-off from animatronic scare 'em up Five Nights at Freddy's, has returned and is now free. Creator Scott Cawthon released it in January, a month earlier than he'd previously planned, and some responses to the game made him rethink that. Really rethink that. He pulled the game from sale, decided to refund the $10 of everyone who bought it, and said he'd work to improve it before re-releasing it for free. Which he now has. That's fondness for one's players. Happy almost-Valentine's-Day!
"This is the first updated version FNaF World, featuring a remodeled overworld and many other new features. More updates to come!" Cawthon said in FNaF's new home on Game Jolt, where you can download it.
When he pulled the game, Cawthon said he "was not satisfied with the reviews and ratings it was getting" - though Steam's player reviews were mostly positive.
FNaF World, if you've missed the hubbub, is a retro-style JRPG-y sort of a game. It sends the wonky animatronic animals from Freddy Fazbear's Pizza "on a quest in the world beneath worlds, a world that reflects the actions and deeds of the 'flipside', where things have started becoming distorted and broken." You fight monsters, that is.
This reminds me of the residual guilt I still feel for not properly updating my list of Five Nights fan games (over 6,000 are now listed on Game Jolt - hey, wait, FNaF World is in there too!).