Build A Pillow Fort To Keep Cats Out In Fort Meow
'Purrfect' would be a pun about something or, I don't know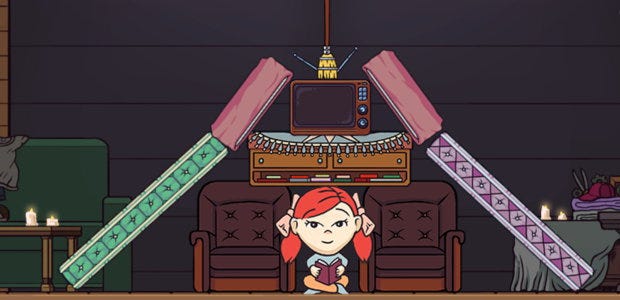 Oh, the simple pleasures of a pillow fort! Raiding your rooms for blankets, sofa cushions, pillows, armchairs, dining chairs, sleeping bags, and other things that your parents will be livid to find you clambering over in your muddy shoes in a corner of the lounge. Now I'm a grown-up, I'm too busy conducting business and leveraging my personal brand to build a fort, but... Fort Meow [official site] does look appealing.
It's a physics-based dealio where you need to build forts of household junk to defend against hordes of cats, and it's out now.
Fort Meow sees a young girl visiting her grandparents' house, only to find them gone and the place crawling with cats. Scavenging items from around the house, you build forts to protect her while she pores over her grandfather's journal to figure out: 1) where they've got to; 2) why there are so many cats.
Along with items that make plain old walls and cover and whatnot, it has special items which can deflect them, attract them, reduce cats' damage, soak the little devils, and so on. It's a bit more than Angry Birds in reverse, then.
Developed by Upper Class Walrus, Fort Meow is available now from Steam for £4.47 with a launch discount, £5.59 through a Humble widget (giving a Steam key and DRM-free version) on its site.