Fossil Echo Is A Ghibli-Inspired Stunner
To Climb a Tower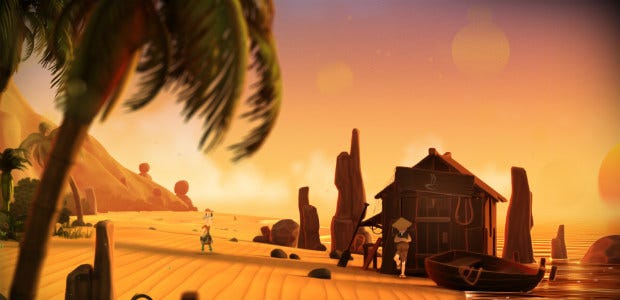 We're a bit late to mention Fossil Echo [official site], as it actually came out in July, but it's still summer outside so it's still topical and we can still enjoy cooing at its sunny stylings. The platformer is replete with desert beaches, temple ruins reclaimed by deep jungle, icy stone towers, and dazzling midnight skies. Paired with an aching orchestral soundtrack that will do a number on your heartstrings, Fossil Echo looks like a challenging platformer with plenty of atmosphere.
Developer Awaceb says that they drew inspiration for the game from the likes of the Oddworld Series, Team Ico, and Studio Ghibli, and these influences certainly show through in the game's whimsical, yet at times dark, hand-drawn setting. Fossil Echo tells the wordless story of a young boy who embarks on an adventure to climb a giant tower in the middle of the sea. It seems like most conflict is resolved peacefully, as he has little means of defending himself. We don't know for sure why he's decided to take on this endeavor, but we expect you'll find out as you play.
At its core, Fossil Echo looks like a difficult platforming adventure with some stealth elements. Awaceb even accommodates for speedrunners, with in-game timers for players interested in taking on a challenge.
Fossil Echo was released earlier this summer. You can find it on Steam, GOG, and the Humble Store for £10.99/14,99€/$14.99.