Freeware Garden: Barrier
Too fast?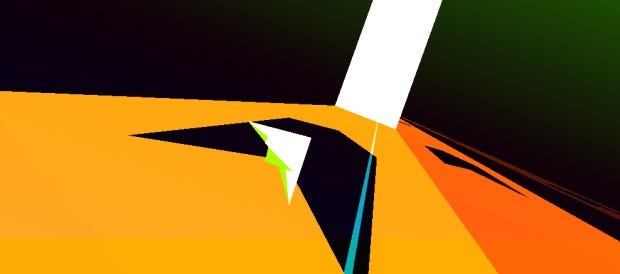 It has become apparent to me that I enjoy the odd super twitchy game from time to time. You know, something along the lines of Super Hexagon or the lovingly freeware and proudly glowing Barrier.
Looking for more free games? Check out our round up of the best free PC games that you can download and play right now.
Barrier looks a bit like ur-indie racer Audiosurf, but, trust me, it's a more frantic affair. It's a super fast avoid-'em-up that has you dodging what I'd describe as flat shaded concrete walls on neon lanes to the tunes of a hypnotic trance soundtrack. All you get to do is move left and right and hope you are good enough to last enough seconds to unlock the next level.
The visual cues and design of the thing help and, chances are, you'll be in the zone in no time. That's where everything clicks together and the exhilarating sense of speed properly tests your reflexes. Be good enough and you'll apparently get to shoot stuff too.
Expect to get addicted to the thing. You've been warned.