Freeware Garden: Deadbolt
Death by death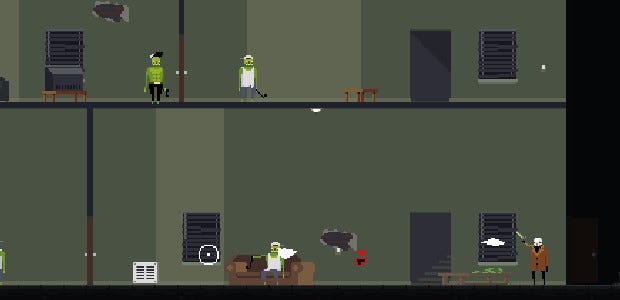 Playing Deadbolt, the latest 2D arcade shooting thing by Risk of Rain developers Hopoo, allowed me - for the very first time in my life - to picture an indie version of the Grim Reaper breaking into a zombie infested mansion via its plumbing and emerging, armed and deadly, from the toilet. Now, I may not know art, but I know what I like: death by toilet. And stylized, hyper-violent action gaming.
Looking for more free games? Check out our round up of the best free PC games that you can download and play right now.
Deadbolt casts you as the Grim Reaper and tasks you with bringing the undead back to the cold embrace of death. Obviously, a scythe doesn't cut it anymore and you'll have to use revolvers, shotguns and, occasionally, knives to fulfill your metaphysical duties in a game that plays like a side-scrolling version of Hotline Miami with bits of Gunpoint thrown in.
You'll scavenge weapons, hide in shadows, sneak through air ducts, find cover behind fridges or tables and tactically slaughter everyone you see. In the few stages on offer - Deadbolt is still in its alpha stage - you'll run into a variety of zombies and vampires of different skills and weaknesses, you'll get to be driven around in a luxuriant vintage car and occasionally destroy drugs. You are apparently playing as the nice sort of Grim Reaper here.
Between the lovely, stealthy carnage you'll get the chance to sit next to the fire and have it brief you on your next mission and provide you with interesting tidbits of story. It might even let you in on a little secret: ash, the drug you keep destroying, is made by harvesting the small amounts of fire found in brains after death.