Freeware Garden: I Know This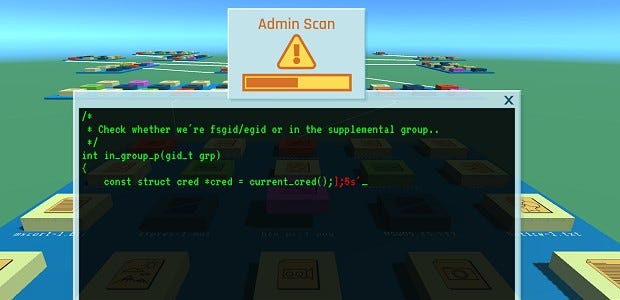 The image of the frantically typing hacker whose fingers dance on the keyboard and make digital magic happen is a '90s cyberpunk and tech thriller mainstay. It's also here to stay, though in 2015 Global Game Jam Entry I Know This it's you in the shoes of the protagonist.
Looking for more free games? Check out our round up of the best free PC games that you can download and play right now.
I Know This is a hacking game that may not match the realistic feel and atmosphere of Uplink, but which is frantic, fun and surprisingly action-oriented. It's also a game with its tongue set firmly in its cheek, that has you attempting to break into a computer system in search of a single, important file that may or may not be central to the plot.

Just like in Jurassic Park, an obvious influence to the game, all the files are stored in a navigable 3D virtual reality world apparently powered by Unix. You'll need to get to specific Search Nodes and hack them in order to start narrowing down where the file you are looking for is hidden, maneuver around corrupted folders and shelter yourself from the searchlight-like Admin Scans in hidden files. Interestingly, the filenames you'll see in the game's VR-space are presented in a nostalgic 8.3 format and directly lifted from your hard drive's file structure.
The main dish of I Know This, the glorious hacking mini-game, involves mashing your keyboard to make code appear and hitting return key where the line endings are; you know, at semi-colons, parentheses and/or the last green character you see on your screen. Yes, it's a bit as if the brilliant hackertyper.net has been tweaked to become something sporting actual gameplay while retaining the ability to help you fantasize about rapidly coding in C.
And if all this sounds a bit intimidating, worry not. It's not and, besides, Clicky the Office Assistant ripoff is there to guide you and provide you with way more laughs than any other help system should be allowed to.